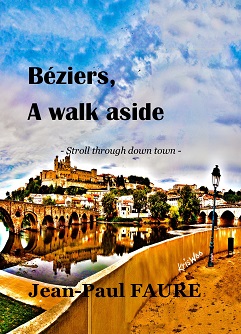 Informations :
Titre : Béziers, A walk aside
(Béziers, À contre-allées) Béziers, a walk aside proposes an intimate journey in the fabulous city setting. Far from clichés, this collection is a series of eleven individual portraits where poetry, psychology and society meet. Béziers shows, in echo to his characters, its fantastic hidden face.
All these characters face social or psychological torments in a city that accompanies them and talks with its poetry.
In a context where the dominant logic often leads to resignation, the protagonists of this fiction choose hope, loyalty to their passion and the search for happiness.
At the Plateau des Poètes (poet's park) we discover a poor woman. She has lost her man, but her faith in love provides an unexpected revival to her. At the Café de Plaisance, Pablo, a taciturn man, understands what inner strength can reveal. Then, at the Lafayette Galleries, Wanglen, a mute little girl, finally pronounces her first words. We narrowly escape catastrophe at Capiscol. In Place de la Madeleine, Bernard finds a little bit of paradise and a big piece of hell. Since Guantanamo, the former Lycée Henri IV student dreams of giving his speech of redemption. And at Saint Aphrodise street, José, the old gypsy, is preyed on by cops, he fears being arrested one last time. Farther on, in the bullring, Julio faces his last bull. Next, in the old cemetery, the buried leave their eternal rest guided by freedom. They wake up joyfully to enter the city. Then, Fleur, the Lida Market employee located on the outskirts, illuminates Florian with her innocent grace. Finally, Claude, a rugby lover suddenly disappears while his princess desperately continues to search for him.
Lire sur une plateforme externe :